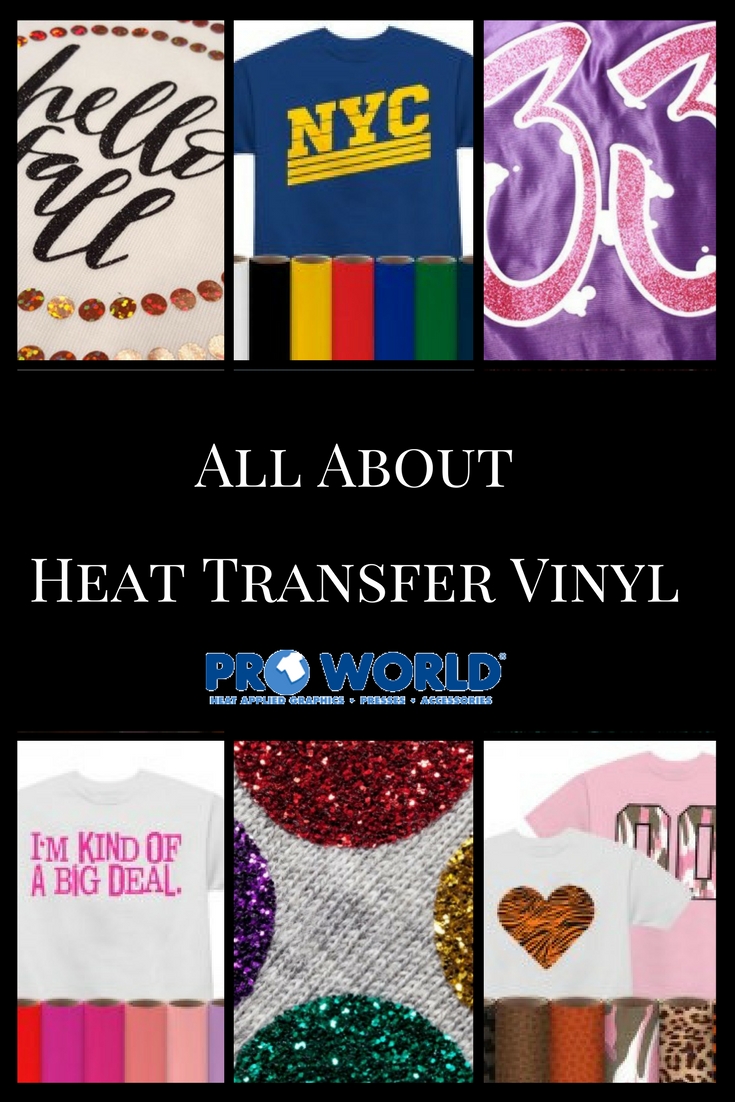 With Heat Transfer Vinyl (HTV) you can create an endless supply of personalized shirts, bags, hats, aprons, etc. HTV is available in a number of different colors, sizes, and finishes, which means if you use your imagination, almost anything is possible. Here at Pro World, we offer a wide variety of HTV options.
We carry Siser EasyWeed Vinyl by the sheet and roll, both in multiple sizes. We offer a number of colors of the standard EasyWeed, fluorescent, and glitter as well as a glow in the dark vinyl. Siser EasyWeed can be peeled hot or cold and doesn't lift during weeding. It's extremely durable and won't wear after numerous washings. It applies at a lower temperature setting and lower pressure than other vinyls and is also thinner making it great for layering. Siser EasyWeed Extra, Electric, Holographic, Stretch, CADflex, Siser EasyPatterns, ReflectAll, Brick, Strip Flock, and Metallic are also available.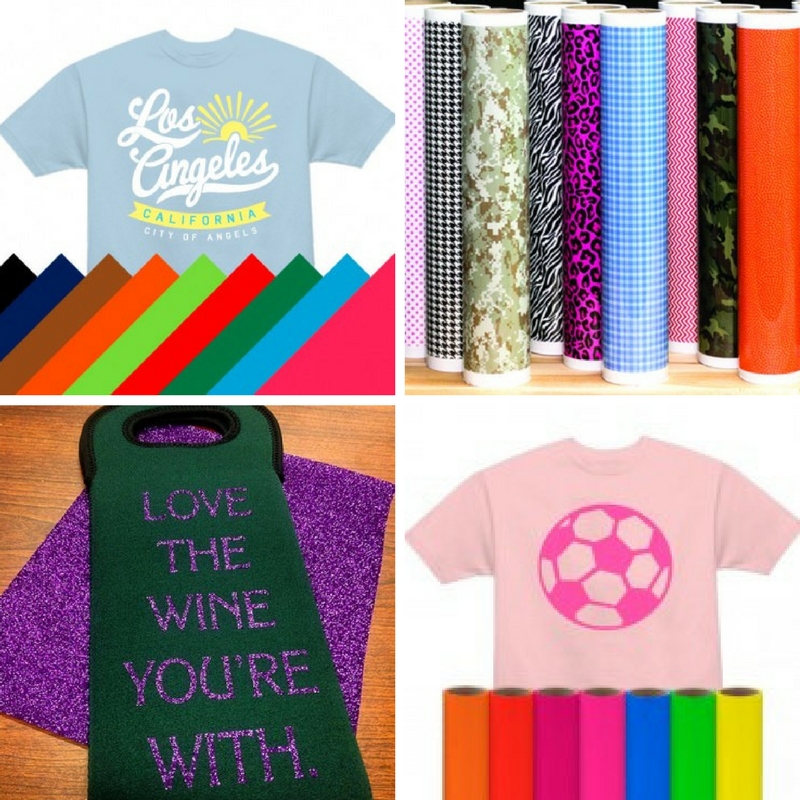 Chemica Firstmark is a semi matte vinyl available in multiple sizes and a number of colors that is best when applied to cotton, polyester, acrylic, and similar materials. We also offer Chemica Mirror Vinyl, which has a metallic finish, in 2 colors, Chemica Firstmark Fluorescent available in 4 colors, and Chemica Quickflex which applies in 5 seconds to cotton, polyester, acrylic, and similar fibers. It peels hot, is soft, flexible, ultrathin, and easy to weed and washes well. It comes in 16 colors. Chemica Bling Bling is an ultra-metallic "glitter-flake" vinyl perfect for cheer and team spirit apparel and it comes in 10 colors. We also offer Chemica Metallic, Chemica Fashion Vinyl, and Chemica Darklite.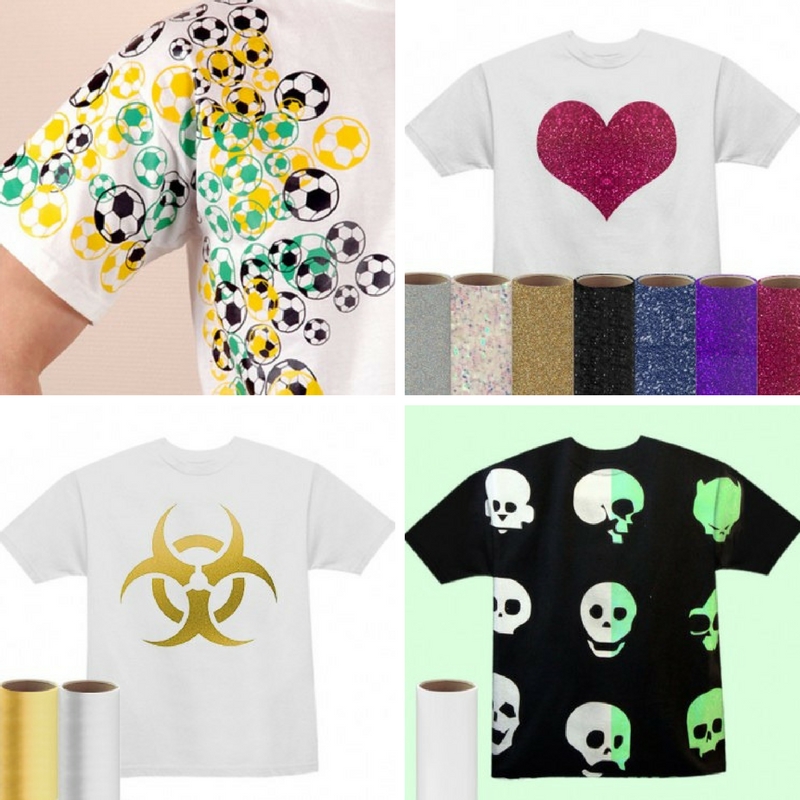 There are multiple types of ThermoFlex available in assorted colors and sizes. ThermoFlex Plus Metal Flake is a highly flexible vinyl. It has small pieces of glitter within the vinyl but is smooth to the touch, and will wash and wear very well. It comes in 6 colors. We also have ThermoFlex Plus available in 38 colors, ThermoFlex Glossy available in 6 colors, ThermoFlex Plus Antique available in old gold and antique silver, ThermoFlex Xtra Antique available in old gold and antique silver, ThermoFlex Xtra available in 14 colors, and ThermoFlex Plus Neon available in 3 colors. The ThermoFlex Xtra is specially designed for decorating nylon, leather, rayon, and other heat sensitive surfaces. FashionFlex is pre-printed heat vinyl that has a textured look and feel. We offer it in zebra and camouflage. GlitterFlex Ultra Vinyl comes in 10 colors and has glitter flakes encased in it. It is a bit thicker than other vinyl's so be sure to increase your cutting pressure accordingly.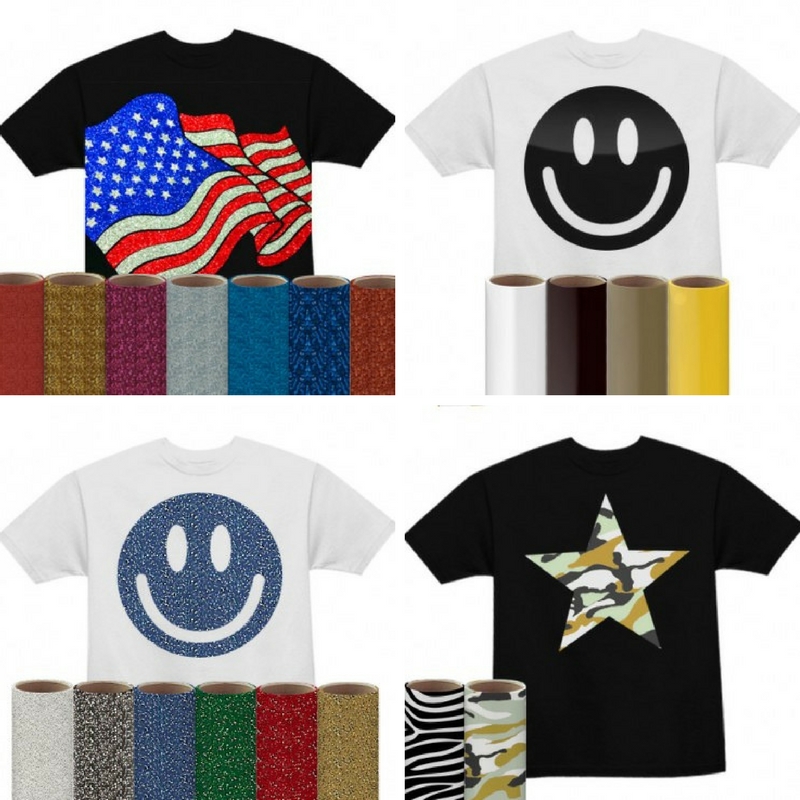 Silhouette Smooth Vinyl will give your project a subtly, shiny look. The Silhouette Flocked Vinyl is velvety and has a fibrous texture, and the Silhouette Glitter Vinyl will add a little glam to your project. They are all manufactured with transfer tape already adhered and come in a number of colors.

With so many different brands, types, and sizes of vinyl available, it can be hard to decide which is best for your project. Different types work best on different materials, so be sure to read about the options to make sure they fulfil your needs. For more information about the HTV we offer and all of the different colors, sizes, and finishes, visit our website, https://www.proworldinc.com/heat-transfer-vinyl/heat-transfer-vinyl-for-garments.html.
Do you have a favorite HTV? Have you used any of the specialty varieties? Share pictures of your projects in the comments!