Here at Pro World, we love our customers! So we are constantly looking for ways to help you with your custom business. So when you asked for a Sublimation Blank Starter Package we were happy to put one together!
Now with our Sublimation Blanks Starter Package you will get a ton of our best selling sublimation blanks ready for your custom designs. This package contains a variety of substrates; glass, hardboard, aluminum, and ceramic just to name a few. Perfect for practicing with your brand new sublimation printer or getting a variety of products to offer to your customers. All products contain a polymer coating and can be applied with your commercial heat press.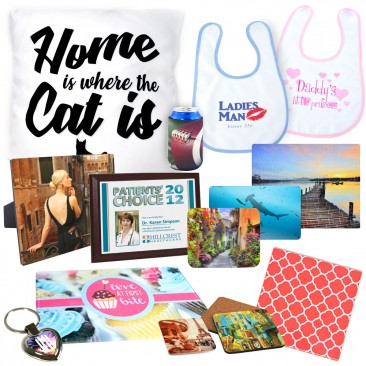 Isn't that great? And while we were thinking about new packages we decided to make one for the Galaxy Elite Cutter Starter Package and the Silhouette Cameo Starter Package. See what they entail below!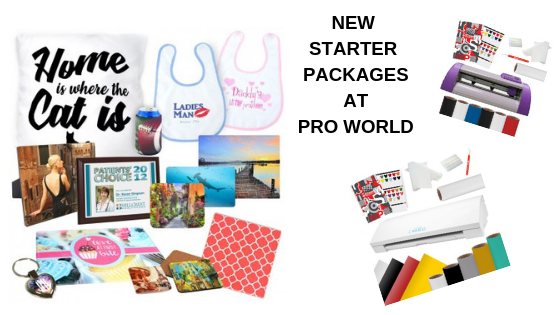 With the Galaxy Elite Cutter Starter Package you will get the Galaxy Elite 15″ Cutter which is a mid-range professional grade vinyl cutter that includes Dragon Cut Software and able to contour cut. It is a desktop cutter driven by stepper motors. With a maximum clearance of 19.3″, this cutter is perfect for running 15″ vinyl which is a common width for vinyl. This package also includes sheets of Siser Easyweed Heat Transfer Vinyl  and rolls of Oracal 651 Adhesive Sign Vinyl – just enough to get you started. And to top it all of you will get a treasure trove of accessories to round out your package which will include a weeding tool, a non-stick sheet, a squeegee, a siser color guide, and oracal tape. We designed this so you would get everything that you need to get started in the garment and sign vinyl industry.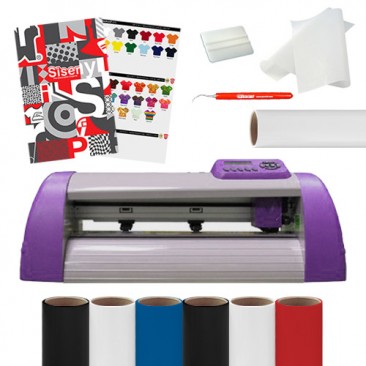 And our last new package is the Silhouette Cameo Starter Package. This package includes the Silhouette CAMEO® 3. the ultimate DIY machine. You just connect it to your computer with a USB cable and you are ready to design. This machine uses a small blade to cut paper, cardstock, vinyl, fabric, and many other materials up to 12 inches wide and 10 feet long. Includes Cameo® 3 cutter, power cable, instructional manual, cutting mat, cutting blade, cross cutter, a one-month subscription to the silhouette design store, and 100 free digital designs. This package also includes Siser Easyweed and Oracal Vinyl and loads of accessories like the Siser color guide, weeding tool, non-stick sheet, and vinyl squeegee!
Which package are you most excited for?