Pressing Pillows vs. Perfect Pads. Do you know the difference?  While neither are absolutely necessary to use your heat press, once you've worked with them, you won't know how you ever pressed without them!  Both will make getting your heat pressing jobs done a whole lot easier!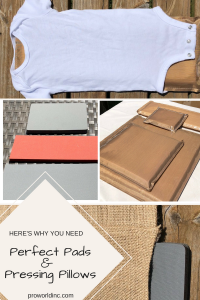 Which one to use depends on the size of your design, and how smooth the area is that you are working with.
First let's discuss the Pressing Pillow.  Made out of a Teflon covered foam, not only do the pillows protect your garments and fabrics from the harsh heating process, but they even out the area where you'd like to place your design.
Zippers, buttons, and seams all get in the way of creating a flat surface area on your garment. Without a Pressing Pillow, the top plate of the heat press may not get a tight seal on the actual heat transfer vinyl (HTV), causing a lack of pressure which may not allow the HTV to stick well to the surface of your garment. When you insert the pillow into the garment, these obstacles sink down into the pillow (for instance a zipper won't press in causing printing issues) and eliminate the pressure points creating a smooth area.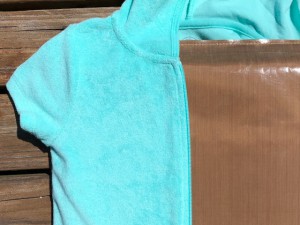 Pillows come in a four pack: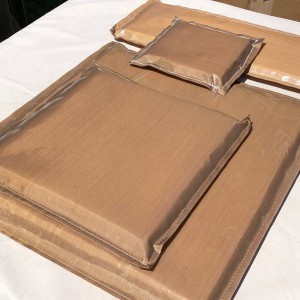 6×6 (we like using them for baby onesies).
5×16 (great for sleeves and legs)
10×10 (we like this size for tote bags)
15×15 (great for adult garments, especially with a bunch of zippers and/or buttons)
While Pressing Pillows allow the zippers and seams to depress into the pillow, Perfect Pads raise the printing area to work around these elements. The Perfect Pad should be inserted directly under the area where the HTV will go, and not under any zippers, buttons, seams or anything creating an uneven surface.  Because the Perfect Pads maintain even pressure, they are also a great accessory for screen printed or digital transfers.  The pads are made out of rubber, like that on the bottom of the heat press.
Perfect Pads come in four different sizes and are sold individually:
When you have a garment that you just can't get around something, like buttons or seams, it's best to go with a Pressing Pillow (such as a baby onesie with all of these thick seams).  The Perfect Pad is great though when you already have an even surface and are in need of a specific size to apply your design.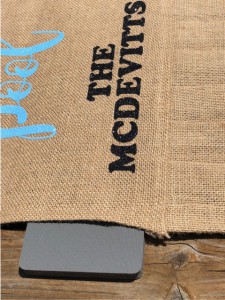 Want to see the pressing pillows and perfect pads in action? Watch our Facebook Live!