Did you know that every Friday at 12:15PM EST we go Live on our Facebook page? It's true! You get to see behind the scenes of our office, get to know our team and see our product put to use as we answer questions on the spot!
Do you have something that you would like to see demonstrated? Let us know! By heading over to our Facebook page and leaving us a note on our wall.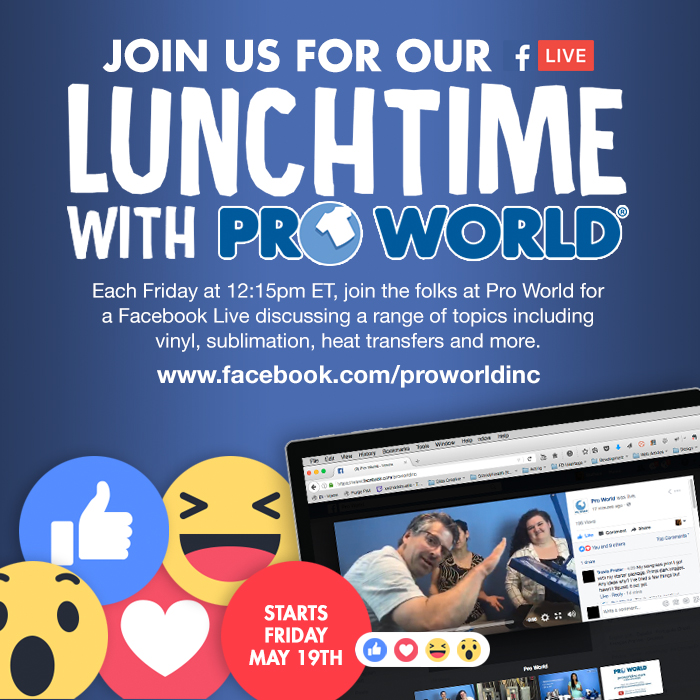 Here are a few of our best Facebook Lives from 2018 for you to replay. But don't forget to mark your calendar for this Friday at 12:15PM EST and every Friday after that!
Which Heat Press is right for you? See for yourself why the TransPro heat press models are the best heat press on the market!
Spring will be here before you know it. And with warmer weather that means people will be spending more times outdoors. So why not take advantage of the sunshine to create apparel that changes color before your very eyes! See how we take a solar heat transfer and press it to become a color changing surprise!
Make a mistake? Don't worry! Just apply some VLR. Watch on this Facebook Live as we use VLR (vinyl letter remover) to lift HTV from apparel!
Sprucing up your craft space? Organize it with our vinyl holders! See them in action below.

Want to learn more about stock transfers? Watch this video! We will show you how to use them, the benefits and how to personalize them!