The best thing about crafting is that it brings people together.  One of the most popular ways to bring people together to create a cool craft and make a little bit of money in the process is to host a paint and sip or a personalization party.  If you already own a cutting machine, you are all set to host your own party (and did I mention make some money?)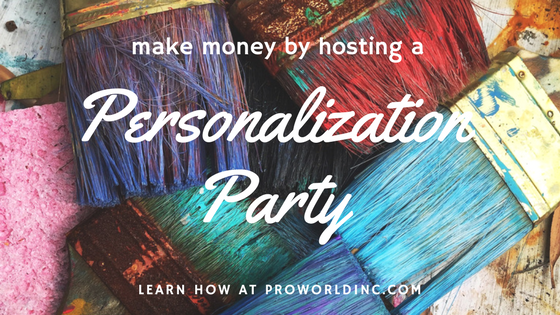 Depending on what project you choose to make, your supplies may vary. For the popular painting projects, you will need:
Paint

Product to paint ( pallet sign, terracotta pot, outdoor mat )
To help you get your party off the ground, we've compiled a list of tips that will help you throughout your party planning process!
Before the party
Find a host:

You will need to find a customer who wants to host a party in their home or you can host the party in your own home.

Selecting a project:

Decide what project will be created.  It could be a wood pallet sign, a wood picture frame, a terracotta pot, outdoor mat or just about anything that can be personalized. Make sure the project is easy, so it will appeal to all levels of crafters.  If your group is more experienced, you can customize the project to suit their crafting abilities.  

Also, you should make sure that the project is something that can be completed in a one to two hour time frame.
Your party host will want to invite their friends. Make it easy for them by creating a Facebook event page. By creating a Facebook event page, you can occasionally post leading up to the event date to generate interest or inform attendees of any changes. It will also make it easy for people to personally invite friends.

If you are hosting a public event, you will need to advertise your event to the general public. You can do so by posting flyers around town, promoting it on social media or sending an email to your current customer base.

Payment:

It is best to collect payments from each guest before the party.  You can accept payment in any form that works for you.  The most popular options would be cash, credit cards, Venmo or Paypal.

Supplies

: Once payment is collected, you need to purchase your supplies needed. 

Prep Your Materials:

Have your guests select their design before the event so that you can prep your stencils in advance! Do this will save time (and frustration).
During the party
If your customer is hosting the party, they are usually responsible for supplying the beverages and food. Make sure you discuss this leading up to the event.

If you are holding an event that is open to the public, make sure you have adequate amounts of refreshments for your guests.  It doesn't need to be elaborate, just some easy things to drink and snack on.
Setup

: It is important to arrive early to setup and organize all of the supplies needed for each guest. Beside your die cut machine and other necessary supplies for the project, the host may need you to provide aprons, extra seating, tables, etc. for your guests to be comfortable and have sufficient space to work on their project.  

Get crafting

: You are running the party because you are the teacher. You may have all experience levels sitting within your group, ask the group about their experience level–so that you know how detailed you should be. Make sure you demonstrate the steps of the project so that the guests can see what you are doing and mimic it.
Ending the party
When guests have finished completing their project, they will be able to leave that evening with the project in-hand. Take advantage of this time to market yourself and future parties. Supply them with business cards, product promotions, and maybe even an event incentive for them to book that night.

If you hosted the party at a customer's house, make sure you clean up after yourself. Remove all trash and leftover materials.

Be sure to thank the host and guest on the original event page with your contact information so that the attendees know how to reach you if they decide to host their own event.

If you took photos during the night of your guests having fun and with their completed projects, be sure to use them as a way to advertise and get hosts for future parties.
Making Money
In order to make some money, you will have to do a little bit of simple math.  You want to make sure that you account for the following things:
The cost per person to make the project – Buying in larger quantities will help you save money.

Take into consideration any offers or discounts that you offered. For example, allowing your host (if you are not hosting the party yourself) to complete their project for free

A small charge for wear and tear on your die cut machine. Die cut machines are used to hard work, but by always factoring in a small percentage for wear and tear, you are preparing for the future so that you can purchase new equipment when needed.

Consideration of gas mileage

Any other costs for the party:  food, drinks and advertising costs
The wonderful thing about crafting is that there are tons of opportunities to make money from your hobby. Not everyone has your gift for creating beautiful items, nor do they have the supplies. So if you enjoy doing demonstrations and already have the equipment, this is a really fun way to make some extra money and promote your customs business throughout your community. 
Are you interested in taking your craft business to the next level? Check out Sublimation.