Can you believe that it's already March? That means Easter is right around the corner! Luckily we just received an enormous order of pastel vinyl, so we are ready to support your Easter crafting needs! And to help with the creative inspiration we've invited our friend Dee who blogs over at From Wine to Whine to show us how she made her daughter an Easter shirt using Siser Vinyl and a Silhouette Cutter. Take it away Dee…
Hi, I'm Dee! And I'm an overthinking, crafty Mom from NJ who likes to spark creativity on a budget! Like the rest of you, I tend to have a lot to do, with only a little bit of time to do it in. So I try to focus my efforts on projects that are quick and easy! Which leads me to why I am writing on the Pro World Blog today, I am going to show you not one, but TWO adorable Easter shirts ideas that you can recreate for your kids! Aren't you "egg"cited?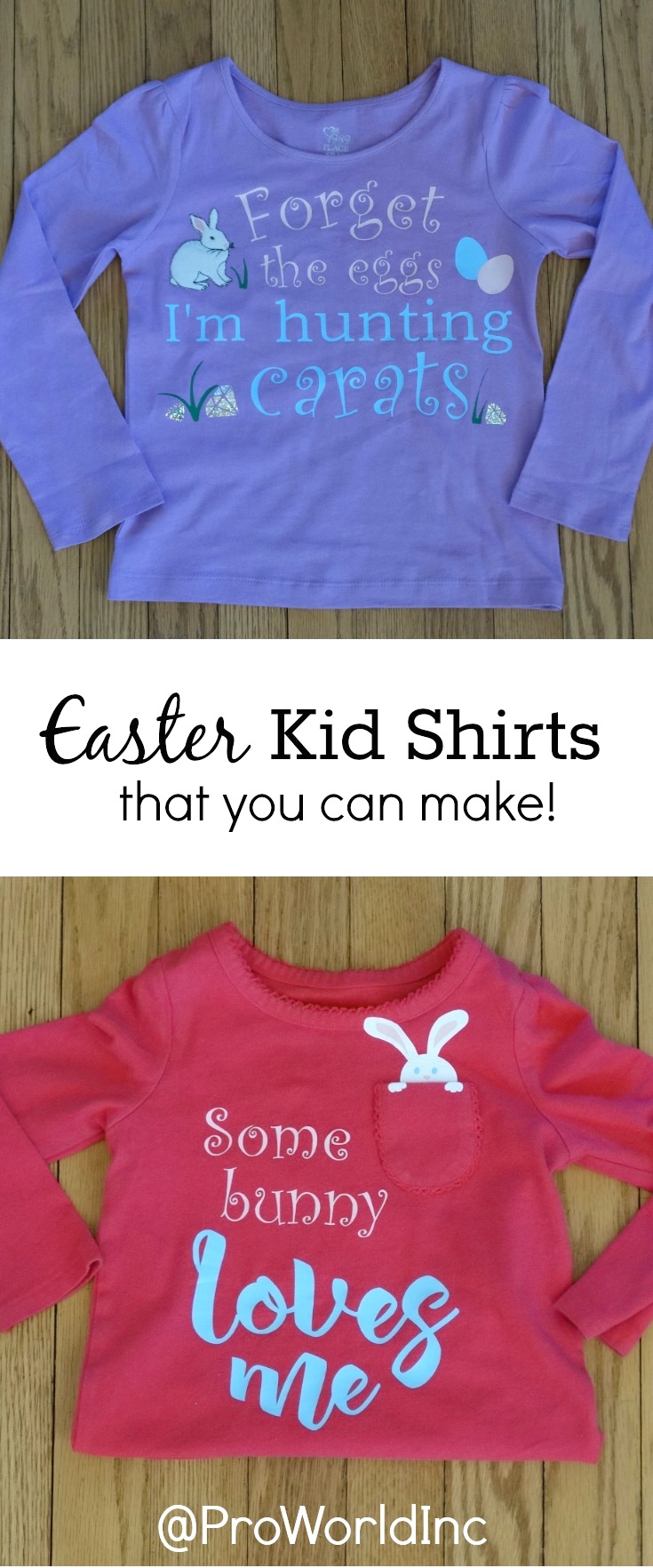 Want to recreate them? You only need a few supplies:
Siser EasyWeed Vinyl in light pink, light blue, green
Bunny Heat Transfer (for the carats shirt)
Pocket Bunny design from the Silhouette Store (some bunny loves me shirt)
Cutter – we used a Silhouette Cameo
Weeding Tool
Teflon Sheet
Blank Shirt
First you need to design your shirt using your Design Software. Since I used my Silhouette Machine, I used the Silhouette Design Program to create the layout. Just pick a font that you like and start typing your shirt quote. I went with: "Some Bunny Loves Me' and my personal favorite "Forget the eggs I'm hunting carats."
For the rabbit on the carat shirt, I used an embroidered heat transfer which brought a lot of dimension to the shirt. Plus my 4-year-old daughter loved that it felt slightly fuzzy! To make designing easier, I used a placeholder bunny about the same size and build so that I could lay my items out accordingly. As for the other shirt images I bought the pocket bunny file, made the Easter eggs and traced the diamonds and grass.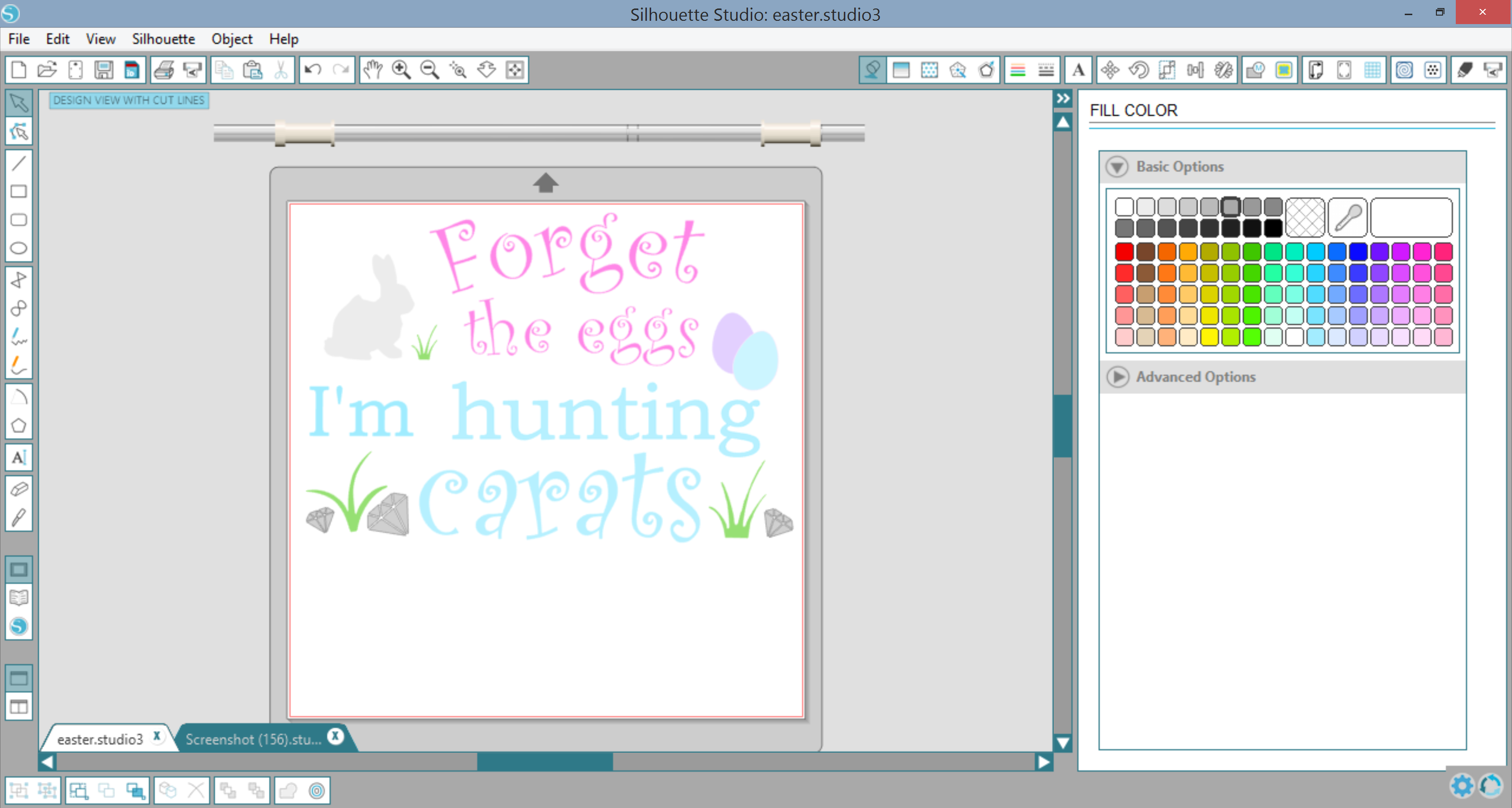 When cutting multiple colors, I ALWAYS recommend that you color code your items so that you can quickly identify your layers. The only thing worse than cutting the wrong color is forgetting to flip your design horizontally. So make sure you do that right now!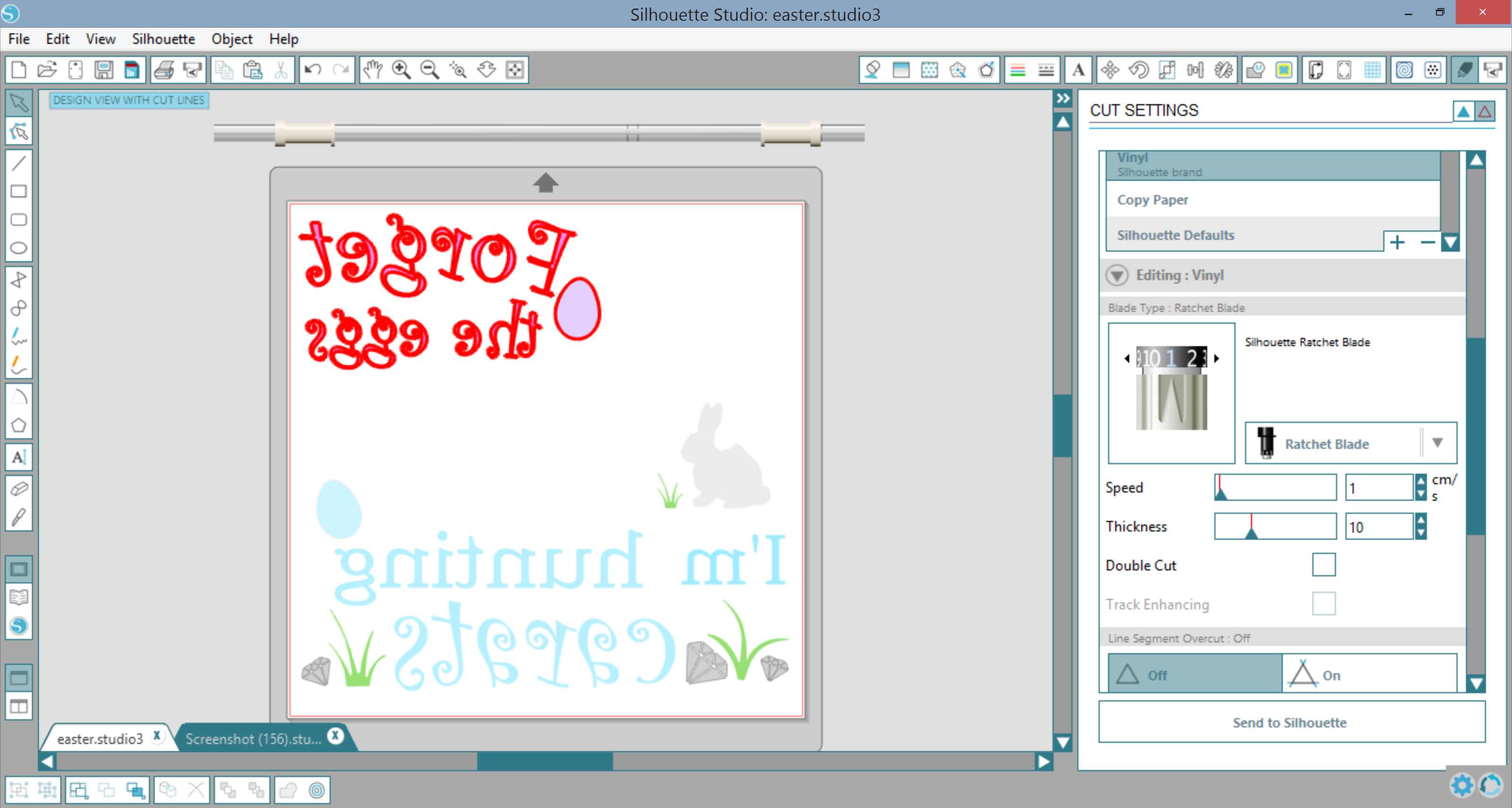 Once everything has been designed, colored and flipped it is time to cut! Deselect ALL of your layers and then reselect the colored items that you are going to cut. Select the Heat Transfer setting, load your vinyl into the machine and click Send to the Silhouette!
Select the Heat Transfer setting, load your vinyl into the machine and click Send to the Silhouette!
Repeat the last step until all of your pieces have been cut out.
Now it's time to get your designs on your shirts! First you want to warm your heat press to 320F since we are going to press the holographic vinyl. Once it reaches the temperature press it for 10-15 seconds and peel.
Now lower your heat press setting to 305F. Once your heat press adjusts to the new temperature, add your EasyWeed pieces and the Heat Transfer Bunny. Press for 10-15 seconds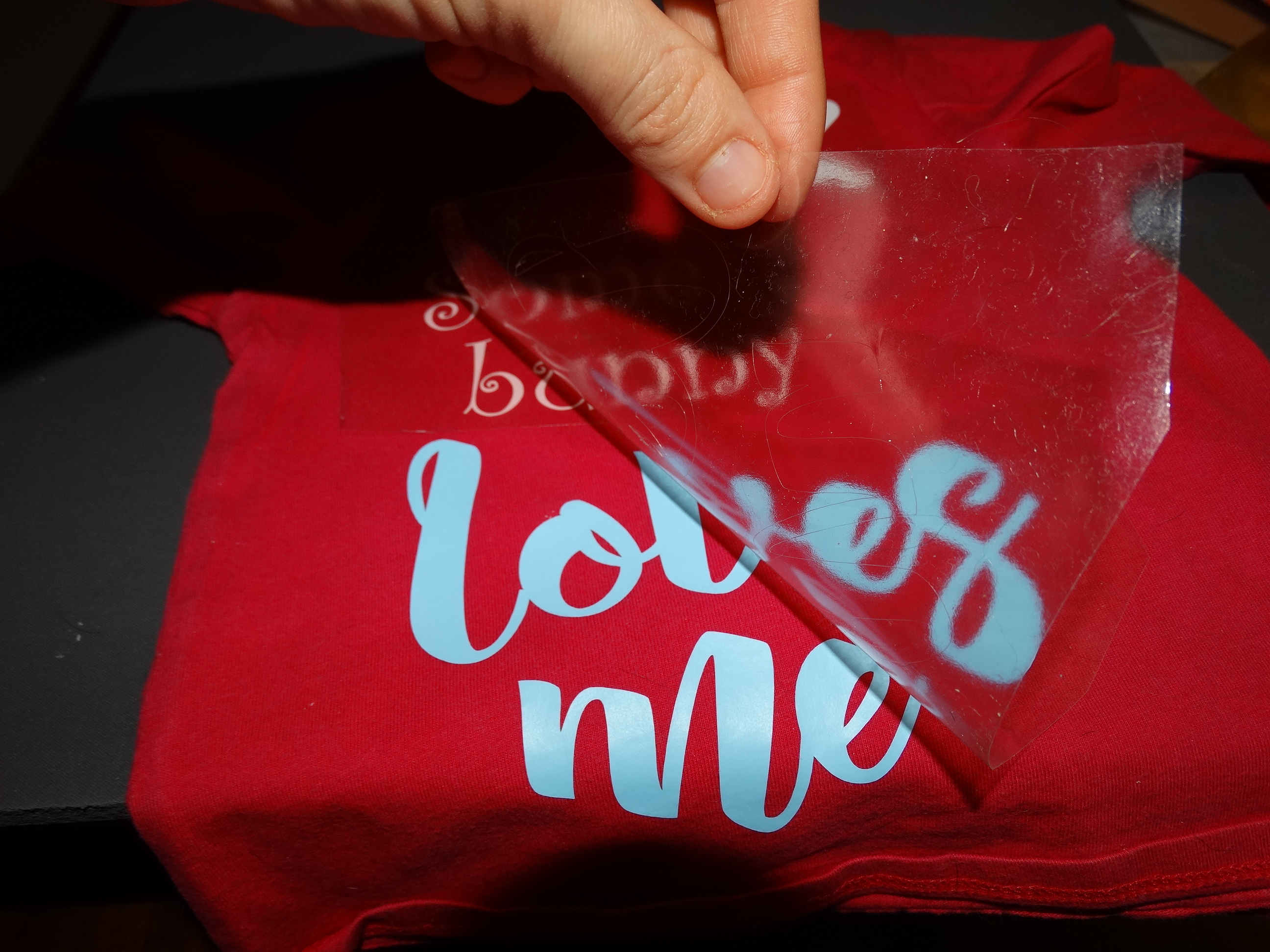 Slowly peel the transfer paper because you are done! Now put it on your little model and admire your work!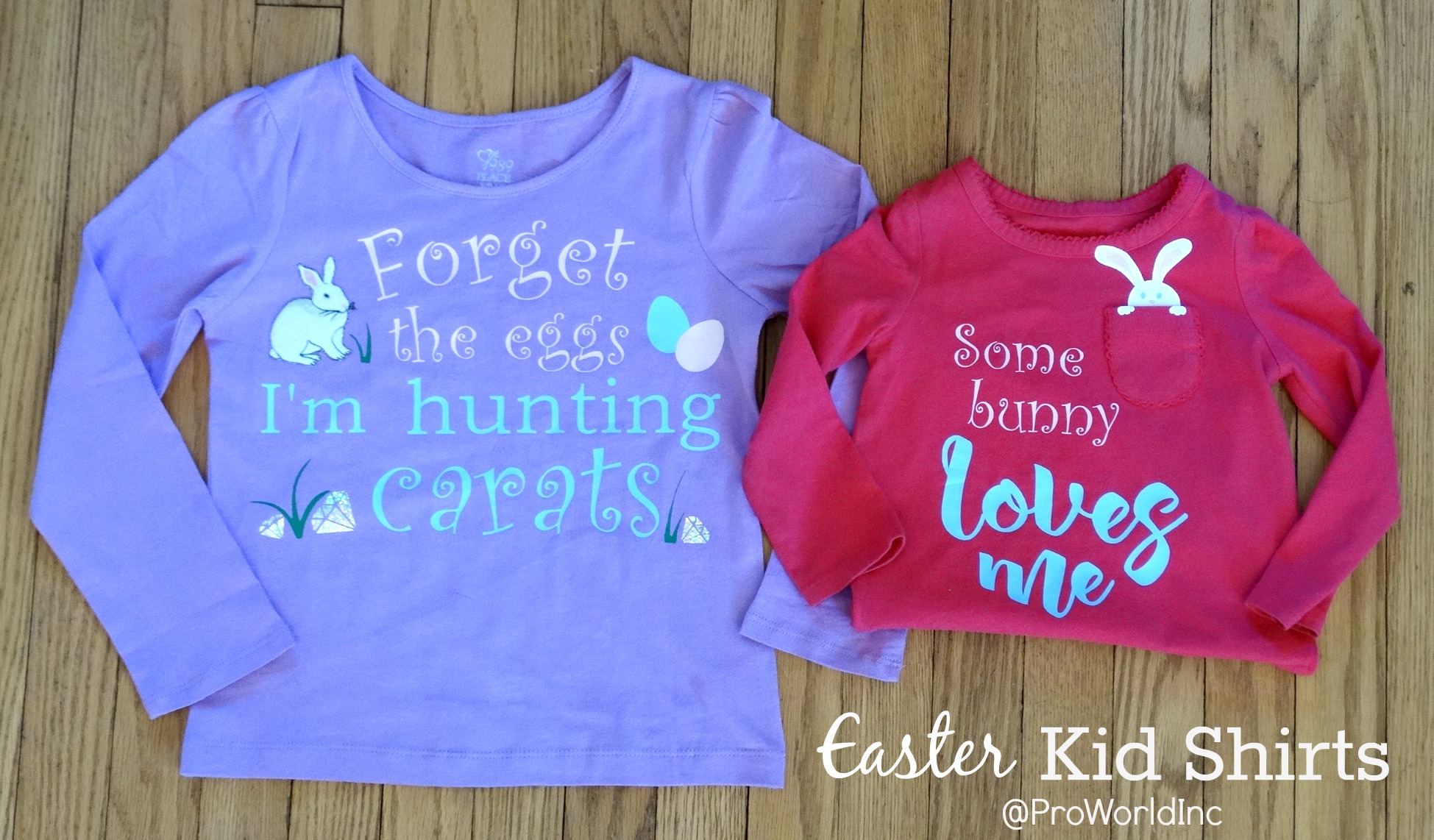 I hope you liked today's post as much as I enjoyed making the shirts! If you follow me at From Wine to Whine, you'll be able to see my little models trying out their cute new shirts! And don't forget to snap a photo of your own. We would love to see how your shirts came out! Just tag us at @ProWorldInc or by using the #proworldinc hashtag when you upload to Facebook, Instagram, Twitter or even Pinterest!