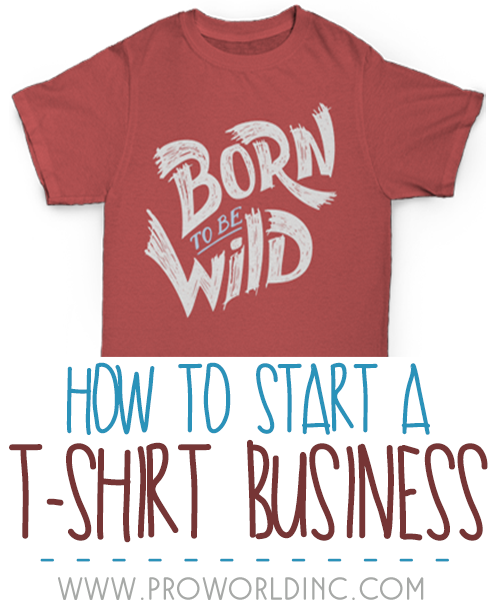 So, you want to launch your own t-shirt business, but you have no idea where to start. How much money will you need? What products do you need to get started? Which heat press is best suited for your needs?
As one of the world's largest suppliers of transfers and t-shirt printing supplies, we get these questions every day. And we feel it's about time that we make it easy for you, by putting all of the information in one spot and breaking it down into just 3 simple steps.
1. DO YOUR RESEARCH!
First things first, do your research. We cannot stress how important this is. Before investing your money in starting up a business, make sure you know exactly what you will need to get started, and the basic knowledge of how the industry works. There are so many different products out there and so many different ways to create a t-shirt.
In order to figure out what products you'll need, you will first want to decide what type of t-shirts you plan on selling. Create a business plan. Are you a graphic artist interested in creating one-of-a-kind designs? If so, custom transfers will probably be the best option. Just send us your design through our quote form, and we will turn it into a screen printed heat transfer. Or, maybe you are looking to print jerseys and numbers for local sports teams? Then a Vinyl Cutter and vinyl may be the answer. Opening up an online store? We have a huge variety of stock transfers to get you started. Decide your target market. This will help you greatly in determining which products will be necessary. We have put together a bunch of starter packages as well as offering some great deals on our TransPro heat presses.
We also have a wide range of support videos on our products that are extremely helpful in getting you familiar with our different products.
2. CREATE A FINANCE & MARKETING PLAN.
What is your budget? Once you know what products you'll need, figure out how much your start-up cost will be. Outside of materials like a heat press and transfers, you will also want to include the cost of t-shirts, labeling your product, shipping/packaging, etc. Make sure all of this is roped into what you charge for your t-shirts, as well as your time.  Keep track of all of your expenses.
Create a marketing strategy. Will you mostly be selling online? Social marketing these days is KEY. Take advantage of free marketing like Instagram and Facebook. Reach an even larger audience by sponsoring your posts on Facebook. Give out free shirts occasionally to promote your brand. Remember that sometimes, spending money is making money when it comes to marketing. Identify your strategies, and create a long term vision. Set goals for yourself each month, and believe in your ability to reach it.
3. HAVE FUN, BE CREATIVE, & DON'T QUIT!
Why run your own business if you can't have fun doing it? Always remember to keep a positive outlook and provide more-than-amazing customer service. Customers are key, and will always return if they receive a quality product combined with a pleasant experience. Always try to improve, and continue to learn new products and new strategies. Never stop promoting your "brand". And remember that success comes with time and hard work, so don't give up!